Structure of Cryotainer Oxygen and Nitrogen Liquid Reservoirs
Cryogenic liquids (liquid oxygen and nitrogen) due to extreme cold, should be stored in special double-walled tanks called cryotainer (Cryotainer), to have the least waste and product losses .Cryotinners are designed and manufactured to be able to store cryogenic liquids with a temperature of -196 ° C in an environment with a maximum temperature of 50 ° C inside.
The inner tank of the cryotiners is made of Austenitic stainless steel. To withstand very low temperatures.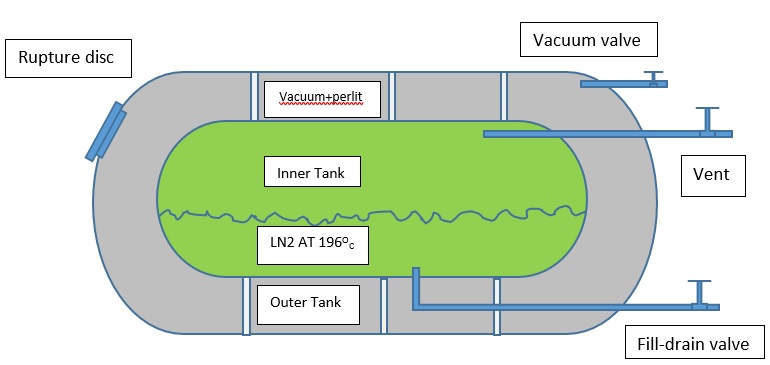 In the construction of this type of tanks, an attempt has been made to minimize the ways of heat transfer to the internal tank, to reduce losses and waste of the product as much as possible, and to maximize its storage time.
In nature, heat is transferred in three ways, so in the construction of cryotiner tanks, these three ways of heat transfer, which are as follows, are countered.
Heat transfer through solids by direct contact
Heat transfer through fluids by molecular displacement
Heat transfer through light radiation or electromagnetic waves
Priestley Gas Industries, with its twenty-five years of experience in the production of oxygen and liquefied nitrogen gases, has been established and put into operation in 1392. This group has taken a small step towards the self-sufficiency of our beloved country Iran by providing part of the needs of the pharmaceutical industry, food companies, casting companies, laser cutting, cable manufacturing, chemical industries and hospitals.